Ron Burch, Building and Maintenance Services - Electrical Services
Restoring Historic Trains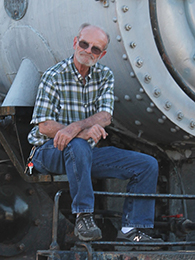 My name is Ron Burch. I am a board member for the Woodland Historic Train Depot, originally known as Sacramento Valley Historical Railways. I have been a member for 10 years and have been retired for two years.
I started with the depot while working at the Physical Plant in the Electric Shop. I was on my way to work when I heard an advertisement on the radio for volunteers. I have been in love with trains as long as I can remember, so I couldn't resist getting involved with actual trains.
My specialty is working with journeymen electricians to bring the depot up to code. I also work with Mike Evans, who is in charge of our rolling stock (the locomotives and caboose). The rolling stock consists of a 1918 Baldwin Steam Locomotive, Designation 1233, which is our prized possession. We also have a 1940 caboose, which is the same type used on World War II ammunition trains, and our diesel electric locomotive, designated the 50.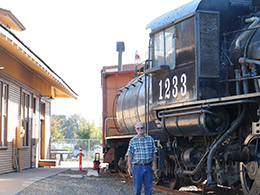 We have restored the train depot to its original state as it was in 1911 when it was built in Woodland, Calif., as a Southern Pacific Train Depot. Another volunteer, Al Van Hoosear, searches the country for antiques dating to the early 1900 to be placed in the depot.
We work from 9 a.m. until 3 p.m. on the first Saturday of each month and every Wednesday from 9 a.m. until noon. Our jobs range from A to Z, and we need all types of volunteers, both women and men. Contact Mike Adams, sacvalrr@gmail.com, or by phone at 530-665-3541.
The most satisfying thing about this hobby is the knowledge that I am saving railroad history for future generations. Railroads helped build America, and they continue to do so to this day. If you want to know more, feel free to call me, Ron Burch, 530-304-9413, or email rlburch@hotmail.com.
---
Clare Hasler-Lewis, Robert Mondavi Institute for Wine and Food Science
The First Mediterranean Diet Dietary Supplement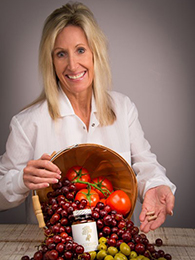 Clare Hasler-Lewis received a BS in Human Nutrition from Michigan State University, MS in Nutrition Science from Pennsylvania State University and a dual PhD in Environmental Toxicology/Human Nutrition from Michigan State.  After a Post-Doctoral Fellowship at the National Cancer Institute (NIH), Clare became Founding Executive Director of the Functional Foods for Health Program at University of Illinois where she also earned an MBA.  In 2004, Clare joined UC Davis as Founding Executive Director of the Robert Mondavi Institute for Wine and Food Science.  Since retiring July 1, 2017, she has pursued her life-long passion for health and wellness by starting OlivinoLife, Inc.  The company's first product, Olivino™, is the only dietary supplement based on health benefits of the Mediterranean Diet (MDiet).
The MDiet refers to the dietary pattern followed for millennia by those living in the Mediterranean Basin.  It is rich in vegetables and fruits, including tomatoes and grapes (moderate red wine intake); olives are a primary fat source.  Science supporting the MDiet way of eating for optimal health is overwhelming. A 2017 study of 12.8 million people showed that those consuming a MDiet had significantly reduced risk of heart disease, cancer and neurogenerative diseases (https://www.ncbi.nlm.nih.gov/pubmed/28488692). Although the MDiet is regarded as the world's healthiest eating pattern, most people do not eat that way. It's simply not convenient!  Driven by a desire to make health benefits of the MDiet accessible and convenient, Clare developed Olivino.
Olivino contains olive, grape and tomato extract levels that have documented health benefits in human clinical trials.  Benefits reported by Olivino users include: reduced blood pressure, healthier cholesterol levels (including increased levels of HDL, the "good" cholesterol), reduced blood sugar levels, improved prostate health and UV protection (yes what we eat can protect us from the sun!).  To try Olivino, please visit our website: (https://olivinolife.com/). To your good health!
October 4, 2018
---
Marcia Kasabach, Parking Enforcement Officer, TAPS
What Color is My Day?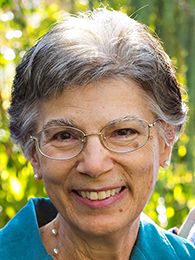 I retired 3 times. First as an Art Teacher in public schools in the Midwest. Next from UC Davis in 1997 after 20 years. Lastly from California School Boards Association.
I retired early from UC Davis, as my age allowed it. However, I had a long To-Do list and never planned to retire.
In 1997, I formed a non-profit corporation to do energy healing in hospitals, working with patients before, during & after surgery. (I'd been doing energy healing, reading and teaching at the Berkeley Psychic Institute since 1982). I volunteered weekly at SF General Hospital for 4 years, doing healings in the ICU & AIDS Ward. I spent 3 months at a birth center in Orlando, FL as a spiritual midwife doing energy work at over 30 births.  I currently volunteer at BPI, also participating in the Church of Divine Man as a Bishop.
Recently,  I completed a children's book.  It forced me to reconnect with art. I loudly protested, "I'm not an illustrator."  After waiting for one to appear, it became evident that the job was mine, "What Color Is My Day?" became a reality. It offers young children a simple tool to change how they feel.
I also completed a Family Tree book, passing on family stories & information to future generations.
My next challenge:  artwork.  After college (BS in Design & MS in Visual Education) I hadn't pursued my own work. It's now time for a new canvas to discover What Color Is My Day.
September 13, 2018
---
Bob Loessberg-Zahl, Office of the Chancellor and Provost
Finding a Retirement Rhythm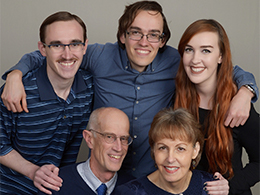 Writing about retirement just over a year in feels a bit like hosting an open house to celebrate the foundation pour. Lots of thought and planning—but the project still lacks a dimension! I'm writing nonetheless because I've been encouraged by what others have written—and hope to pay that experience forward in some small way.
A bit of context: I retired from UC Davis a year ago this past November after 30 years of combined work experience with the State and UC Davis. Six months later, my spouse, Linda—a pastor in the United Methodist Church—retired as well, and our youngest child, Lexi, graduated with her bachelor's degree. We three then picked up and moved from Berkeley to Woodland. Lexi is living with us while working and applying to graduate schools. Aaron, our oldest, continues to live and work in San Jose. Josh, our middle child, is pursuing a graduate program in The Netherlands—and seems quite likely to settle there, immigration and work opportunities permitting.
Lesson No. 1 from my retirement foundation: a kind word from a friend or family member, or simply sharing a laugh cuts through the transition wackiness and sets everything back in the right perspective. Staying in touch has been really important.
Retirement has been great in many ways, some anticipated and some surprising. I've started to learn Spanish. Respect for friends who speak English fluently as a second language has grown to something more like awe! I'm tutoring in a local literacy program and feeding my history nerd by volunteering in the Yolo County Library's Archives Division. As it turns out, I'm not quite finished working either. I've had the pleasure of briefly returning to work with colleagues new and old on a well-focused and limited-term project. Nonetheless, there has been plenty of time for reading—I'm currently working my way through Thomas Piketty's Capital. Other diversions include an awesome illustrated tome on the history of information graphics (yes…once an analyst, always an analyst…) and a 3,000-piece jigsaw puzzle (SOOO much green and blue…).
Unanticipated pleasures have included TIME to more deeply live in the moment. Just before writing this, I went outside to run and was struck to stillness by how the day had cleared from fog to a spectacularly clear blue bordered by the coast range and thunderheads towering over the Sierra. Linda and I have both appreciated time for random conversations—it's amazing how much there's still to learn about each other. We have travel ideas but haven't really been in a hurry to push them ahead.
Probably my biggest transition issue is a sense of lacking direction or purpose in the absence of employment. This is just weird—because suddenly there are a bunch of new choices to make and directions to take—the possibilities for purpose abound! And yet, there it is. Moving off in new directions has meant trying out new things—which means starting from the ground up in some cases and acknowledging that I am "helping out" or learning from people who have spent a lifetime of effort acquiring professional skills, knowledge, or abilities that I don't possess. I'm finding that new roles mean a bit of stumbling around—with, surprisingly, some anxiety!—and am deeply thankful for the patience and generosity of mentors new and old. I'm still far from certain what I want to be when I grow up in this new phase of life—and admit to having some difficulty letting the discernment process take its course. But here again, support from family and friends has made it all good.
March 6, 2018
---
Charles Halsted, Professor Emeritus, UC Davis School of Medicine
Poetic Medicine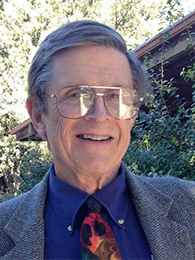 I retired from UC Davis and the School of Medicine in 2016, after 43 years of challenging and rewarding teaching, conducting research, and caring for patients at UC Davis Medical Center. Prior to taking this step, I formed a men's retirement group at the Unitarian Church of Davis, with a goal of learning how to adjust to this late stage of life. Our stories and readings re-enforced the overriding importance of developing a challenging new pastime in order to ward off late-in-life depression that often affects retirees with nothing to do.
I had obtained a liberal arts education at Stanford prior to embarking on my medical career and prided myself on the ability to provide accurate written descriptions of each of my subsequent patients and their illnesses. Initially attending a few local poetry workshops, I discovered the Stanford Continuing Studies program, and have now attended eight consecutive and rigorous 10-week on-line poetry courses. My confidence has been re-enforced by publication of a growing number of original poems on a variety of topics in different journals.
Based on my medical career, I have included a number of poems about medical illness and patient care in my growing repertoire. Here is a poem based on a patient I cared for in my outpatient clinic at UCDMC, a friend with colon cancer.
Quality of Life
I slid in the scope past ridges and caves,
along a dark tunnel with purplish seams –
twisting and turning till finally it gave
out to a space where a pebbly lump gleamed.
From the end of the tunnel with purplish seams,
his life would be shortened by bloody ooze
into the space where the pebbly lump gleamed.
I slipped forceps through to give me a clue
from a piece of the lump with its bloody ooze,
which I sent to the lab to find out why he bled.
Cancer was the answer to the pebbly lump clue.
I'd have to tell him now, although the news would be dread.
When he awoke I told him why he'd bled.
"You've saved my life," was his reply.
Although the long-term prognosis was dread,
with surgery, he would not yet die.
To live life to the full was his reply
to the cards he'd been dealt by unwelcome fate.
Though his life might be short, he would not die
till he'd done all he could that remained on his plate.
For six long years he ignored his fate.
He traveled and painted, did all he had planned,
put aside all fears that remained on his plate,
till a spot appeared on a liver scan.
The cancer's return was not part of his plan.
Chemo became his only choice,
with puking and numbing and further scans,
until I had to tell him with quavering voice:
"No more can be done, you've no more choice,"
knowing full well that in weeks he'd be dead.
He rose from his chair and replied with clear voice:
"You gave me six years of life," was all he said.
© Charles Halsted (published in Blood and Thunder, 2016)
October 13, 2017
---
Manfred Kusch, Senior Lecturer Emeritus, French and Comparative Literature
A focus on birds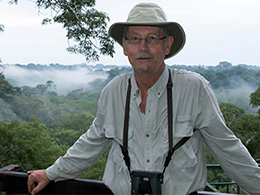 I formally retired in 2002 after 31 years of teaching and research, and many years of chairing three different departments in the humanities as well as important Academic Senate committees, both on campus and systemwide.
But despite a very busy, stimulating and fulfilling career, the transition into retirement was smooth and liberating. I had prepared for this moment ever since I was drafted into a one-room school in a tiny village in West Germany where my refugee family had been relocated after the war. Used to roaming free and unsupervised from my earliest childhood, I developed a keen interest in birds that has accompanied me throughout my entire life. My retirement then finally allowed me to devote myself more fully again to this sustaining interest. I created a large bird-friendly garden on the banks of Putah Creek west of campus that has become a hot spot for local birders.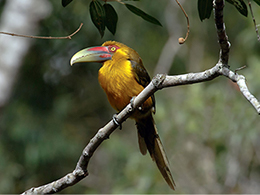 And for about 10 years now, I have developed an interest and some skill in bird photography. This has motivated me to travel extensively in the tropical regions of Central and South America in small groups of international nature photographers. I have visited remote areas from sea level to near 15,000 feet in Honduras, Costa Rica (3X), Ecuador (2X), Peru, Brazil, and most recently Colombia. The Falkland Islands and Nome, Alaska, are next on my list for 2018. Finding and photographing extraordinary birds in largely unspoiled areas of wilderness and making friends among my fellow photographers from Europe, Canada, Australia and Asia, as well as the U.S., has been one of the great joys of my retirement.
October 3, 2017
---
Laurie Loving, King Hall School of Law and Student Disability Center
Activating your creative side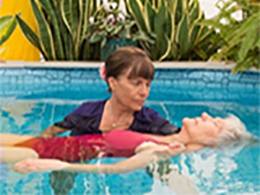 Whoever says they are bored after retiring just isn't paying attention or needs a refresher course in activating their creative side. Since my retirement I have filled my days with the massive number of events just in Davis alone - entertainment, tours, festivals, public celebrations, lectures, fundraisers, volunteering and so much more.
I also started a home-based business where I give massages while the client is floating in my warm therapy pool in my own backyard. I work the number of hours I want on the days I want. The warm water also helps reduce my own arthritis pain; how many people can say they feel better AFTER work?
Even more exciting I returned to the singing career I had given up when my first child was born 40 years ago. At age 62 I'm singing in a classic rock band, a doo-wop class and with a folk-music trio. I have 5 performances in June!
So I'm having the retirement-time of my life and you can too!
June 27, 2017
---
Gibbe Parsons, Professor Emeritus, UC Davis School of Medicine
The Magic of Listening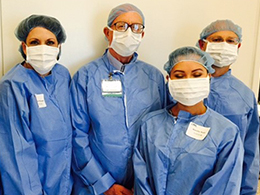 In the four years since my retirement, I have given "Med Student for a Day" tours of the hospital twice a month to small groups of donors, friends of the university or new employees. The half-day tour starts in the cafe with self-introductions and discussing what these "students" had to do to get here and why they chose us. We then walk through the Emergency Department, Radiology, Cardiology, the Medical School, the Simulation Suite of mannequins, and then into the Operating Room in "greens." During our stroll, we briefly stop 20-30 employees, volunteers, technicians, researchers, trainees, nurses and doctors, asking "Can you please tell us who you are and what you do here?" And then we listen.
Everyone we encounter is a gift--everyone who speaks to us, who tells their story, who shares a challenge, who made a choice, who shows courage, who laughs, who aspires, who volunteers, who cleans rooms, who treats others with respect and kindness, who helps the mentally ill, who helps do research, who is a scribe, who is a student, who is a manager, who is a tech, who shows up, who works with children, who works with the helpless, who found themselves, who came from another country, who learned our language, who does surgery or recovery. No one is here by accident. No one is here without commitment or perseverance. Listening gives authenticity to the speaker. Listening confers an honor. Listening gives a glimpse of who is behind the name tag. Listening is energizing to the listener. This is the magic of listening.
June 13, 2017
---
Tom Compton, Student Affairs, UC Davis campus
From fitness to friendship and travel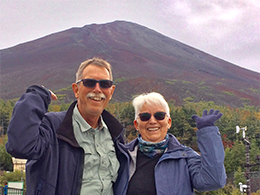 When I retired after 40 years in a variety of roles in Student Affairs, my wife and I wanted to continue with active recreation and do more traveling. We knew from previous travel experience that staying reasonably fit is essential to enjoying whatever one wants to do in retirement.
To that end, we joined a program in Campus Recreation designed for people over 55. Our aim was to stay in shape. We joined a group of about 20 people in 2009, and that group has grown to more than 60 today. Classes are offered every weekday morning. We found new friends, and reconnected with old friends in this common pursuit. But we gained much more than muscle tone. We began regularly to stay after class with 10-15 others and enjoy coffee together while solving the world's problems and sharing stories of our experiences. Soon we found common interests, and informal sub-groups formed. Some go hiking; others ride bikes to Winters once a month; many have traveled together. We have potluck events 3-4 times each year and attendance regularly exceeds 75 people. In sum, we have a wonderful group of people who have become almost family.
In the past five years, Mary Jo and I have visited Russia, Peru, Africa, Europe and, most recently, Japan, all with others from our Fit for Life group. We have more fun than should be allowed and have made memories that are priceless. We have a group of 20 planning our next adventure to Scotland in 2018.
April 18, 2017