Share Your Story
What joys, discoveries and experiences have shaped your life in retirement? Let us know in 250 words by emailing Share Your Stories editor Maril Stratton.
Gibbe Parsons, Professor Emeritus, UC Davis School of Medicine
The Magic of Listening
In the four years since my retirement, I have given "Med Student for a Day" tours of the hospital twice a month to small groups of donors, friends of the university or new employees. The half-day tour starts in the cafe with self-introductions and discussing what these "students" had to do to get here and why they chose us. We then walk through the Emergency Department, Radiology, Cardiology, the Medical School, the Simulation Suite of mannequins, and then into the Operating Room in "greens." During our stroll, we briefly stop 20-30 employees, volunteers, technicians, researchers, trainees, nurses and doctors, asking "Can you please tell us who you are and what you do here?" And then we listen.
Everyone we encounter is a gift--everyone who speaks to us, who tells their story, who shares a challenge, who made a choice, who shows courage, who laughs, who aspires, who volunteers, who cleans rooms, who treats others with respect and kindness, who helps the mentally ill, who helps do research, who is a scribe, who is a student, who is a manager, who is a tech, who shows up, who works with children, who works with the helpless, who found themselves, who came from another country, who learned our language, who does surgery or recovery. No one is here by accident. No one is here without commitment or perseverance. Listening gives authenticity to the speaker. Listening confers an honor. Listening gives a glimpse of who is behind the name tag. Listening is energizing to the listener. This is the magic of listening.
June 13, 2017
Laurie Loving, King Hall School of Law and Student Disability Center
Activating your creative side
Whoever says they are bored after retiring just isn't paying attention or needs a refresher course in activating their creative side. Since my retirement I have filled my days with the massive number of events just in Davis alone - entertainment, tours, festivals, public celebrations, lectures, fundraisers, volunteering and so much more.
I also started a home-based business where I give massages while the client is floating in my warm therapy pool in my own backyard. I work the number of hours I want on the days I want. The warm water also helps reduce my own arthritis pain; how many people can say they feel better AFTER work?
Even more exciting I returned to the singing career I had given up when my first child was born 40 years ago.  At age 62 I'm singing in a classic rock band, a doo-wop class and with a folk-music trio.  I have 5 performances in June!
So I'm having the retirement-time of my life and you can too!
June 27, 2017
Tom Compton, Student Affairs, UC Davis campus
From fitness to friendship and travel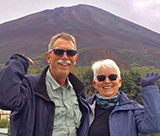 When I retired after 40 years in a variety of roles in Student Affairs, my wife and I wanted to continue with active recreation and do more traveling. We knew from previous travel experience that staying reasonably fit is essential to enjoying whatever one wants to do in retirement.
To that end, we joined a program in Campus Recreation designed for people over 55. Our aim was to stay in shape. We joined a group of about 20 people in 2009, and that group has grown to more than 60 today. Classes are offered every weekday morning. We found new friends, and reconnected with old friends in this common pursuit. But we gained much more than muscle tone. We began regularly to stay after class with 10-15 others and enjoy coffee together while solving the world's problems and sharing stories of our experiences. Soon we found common interests, and informal sub-groups formed. Some go hiking; others ride bikes to Winters once a month; many have traveled together. We have potluck events 3-4 times each year and attendance regularly exceeds 75 people. In sum, we have a wonderful group of people who have become almost family.
In the past five years, Mary Jo and I have visited Russia, Peru, Africa, Europe and, most recently, Japan, all with others from our Fit for Life group. We have more fun than should be allowed and have made memories that are priceless. We have a group of 20 planning our next adventure to Scotland in 2018.
April 18, 2017